08jun11:00 AMBook Club - June 202211:00 AM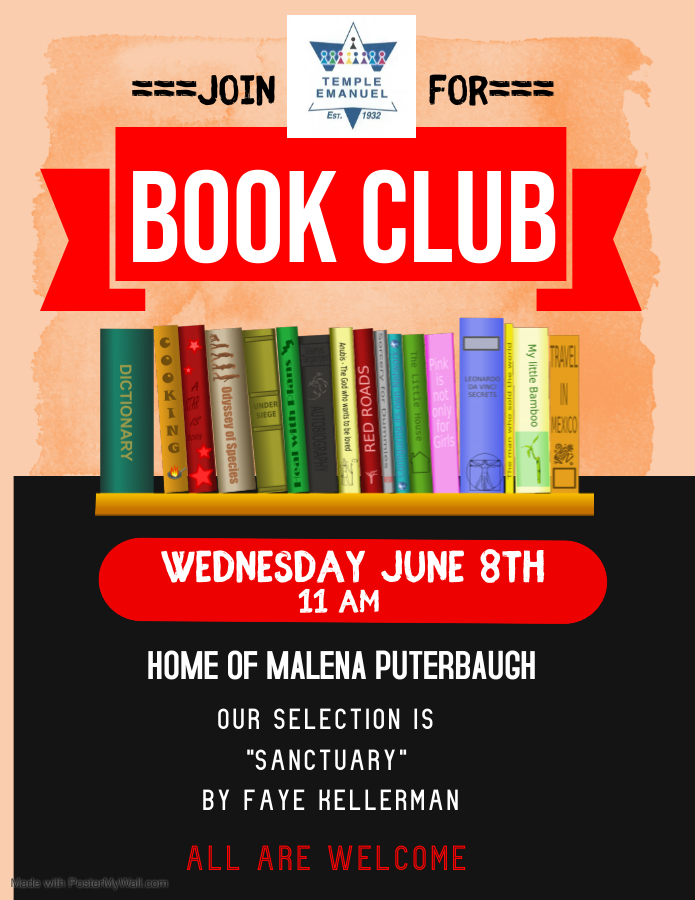 Event Details

Our next Book Club will be held Wednesday, June 8th at 11 am at the home of Malena Puterbaugh.  Our reading selection is The Sanctuary by Faye Kellerman. The Amazon.Smile link can be found below.

https://smile.amazon.com/Sanctuary-Decker-Lazarus-Novel-Peter-ebook/dp/B000W9167U/ref=sr_1_1?crid=1DBJQ2OGVYRGJ&keywords=sanctuary+faye+kellerman&qid=1651081363&sprefix=The+Sanctuary+by+Faye+%2Caps%2C169&sr=8-1

Orthodox Jewish housewife Rina Lazarus and her husband-and convert to Judaism-LAPD Detective Sergeant Peter Decker (last seen in Grievous Sin) have their hands full in their seventh adventure. While Peter and his partner, Det. Marge Dunn, investigate the disappearance of prosperous diamond dealer Arik Yalom, his wife and their teenage sons, Rina plays hostess to Honey Klein, visiting from New York with her children and obviously escaping problems with her Hasidic diamond-dealer husband, Gershon. When the bodies of the older Yaloms are found buried on a local mountainside, their sons are seen as possible suspects or potential victims fleeing for their lives. The Yalom case leads Peter to L.A.'s diamond center; to elegant Kate Milligan, a power in the South African diamond trade; and eventually to Israel, with Rina along as interpreter. After Gershon Klein is found dead, Honey and her kids vanish too, further complicating this overrich brew. Scouring the environs of Jerusalem in their search for the missing Yalom boys, turning up bomb plots as they go, Peter and Rina get a fix on the killer and take an inside look at some Israeli institutions.