14oct11:00 AM12:00 PMBook Club - October11:00 AM - 12:00 PM
Event Details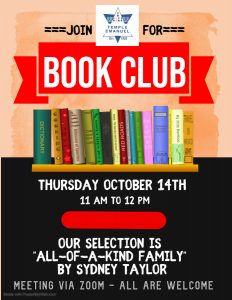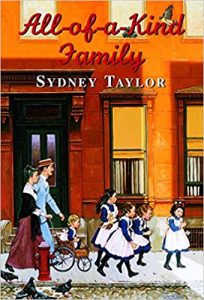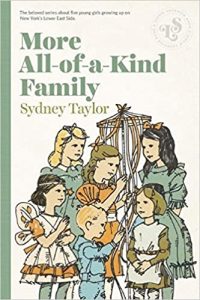 Meet the All-of-a-Kind  Family — Ella, Henny, Sarah, Charlotte, and Gertie — who live with their parents in New York City at the turn of the century.
Together they share adventures that find them searching for hidden buttons while dusting Mama's front parlor and visiting with the peddlers in Papa's shop on rainy days. The girls enjoy doing everything together, especially when it involves holidays and surprises.
But no one could have prepared them for the biggest surprise of all!
The second book in the series presents a vivid and humorous portrait of life at the turn of the century, as WWI approaches, a single uncle finds love, and a new friendship blooms among latkes and the library.
Born in 1904 on New York's Lower East Side, Sydney Taylor was one of the first authors of children's books centered on Jewish characters, and is especially known for the immensely popular All-of-a-Kind Family series.
*****************************************************************
The next Temple Emanuel Book Club meeting will be held on Thursday, October 14th at 11am via Zoom.
Our selection is All-of-a-Kind-Family, Books 1 and 2, by Sydney Taylor.
These book are suitable for ages 8-12 and grades 3 -7, so we invite you to share them with your children and grands! If you have a chance to read a chapter of your choosing to a grandchild, friend, neighbor or family member, we will discuss the experience at our meeting.
To purchase, use the Amazon Smile links below.  Everyone is invited to join our lively discussion!
Book 1: https://smile.amazon.com/All-Kind-Family-Sydney-Taylor/dp/0440400597
Book 2 in this series is also suggested for reading if you have time:  https://smile.amazon.com/More-All-Kind-Family/dp/1939601150
Time

(Thursday) 11:00 AM - 12:00 PM